Last Updated on May 27, 2023 by Max
Introduction
Before discussing my personal journey with prostatitis and its management, it's crucial to understand the theoretical backdrop that forms the basis of this approach. This will enable my readers to comprehend why this method differs from conventional ones and deserves some consideration.
Over the past six months, I've managed to alleviate all signs of prostatitis without stepping into a doctor's office. The exact pathophysiology of prostatitis remains elusive. Hence, current medical interventions primarily aim to mitigate the associated symptoms. The prostate gland enlarges progressively through a man's life, leading to Benign Prostatic Hyperplasia (BPH)—the most prevalent benign neoplasm in men. Approximately 50% of men aged 50-60 and 90% above 85 experience BPH. However, prostate enlargement does not necessarily correlate with symptom severity—this is subjective to each individual. Consequently, symptom severity is often the sole gauge of disease progression.
Considering this, my proposed strategy also emphasizes symptom alleviation rather than claiming to 'cure' the disease. Let's first clarify some essential terminologies to preclude any misunderstandings.
Understanding the Prostate Gland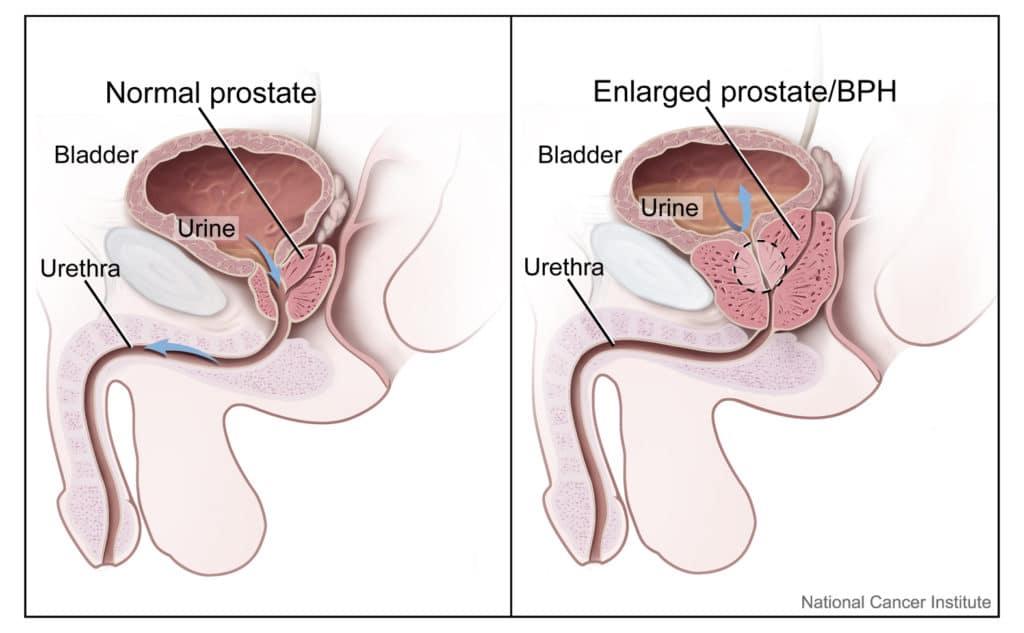 The prostate gland, a part of the male reproductive system in mammals, is a walnut-sized exocrine gland weighing around 11 grams (0.4 oz). Located beneath the bladder and positioned between the bladder and the penis, the urethral duct runs through the prostate tissue, conducting urine from the bladder through the penis. About 30% of semen constitutes prostate fluid, a milky alkaline mixture of enzymes, zinc, and simple sugars. This fluid protects, nourishes sperm, and assists in achieving fertilization.
Demystifying Prostatitis
Prostatitis, as defined by Wikipedia, is an inflammation of the prostate gland. The National Institute of Diabetes and Digestive and Kidney Diseases classifies prostatitis into four distinct forms: acute and chronic bacterial prostatitis, Chronic Pelvic Pain Syndrome (estimated to be 95% of prostatitis diagnoses), and asymptomatic inflammatory prostatitis. The first two forms are treated with antibiotics, while the third form is managed through various interventions such as medications, physical therapy, nerve modulators, phytotherapy, surgery, and more.
Prostatitis Symptoms
Prostate size can increase up to ten-fold with age. In about a third of men, this can compress the urethra, affecting urine flow, resulting in symptoms such as dribbling at the end, a difficult start, a thin stream, painful urination, pain in the pelvic area, and lower back pain, among other urogenital discomforts. It's important to differentiate prostatitis from prostate cancer, as they share similar symptoms. However, prostatitis does not increase the risk of cancer. Thus, upon experiencing any signs of prostatitis, it's essential to seek medical advice to determine the type of prostatitis and to evaluate the potential treatment options.
My Approach to Managing Prostatitis
When we delve deeper into the definition of prostatitis, inflammation emerges as a protective response against harmful stimuli such as pathogens, injured cells, or other irritants. It involves several defense mechanisms, including body temperature elevation, immune response, and molecular mediators designed to localize the affected site and restore tissue function.
Considering the prostate's proximity to the bladder, urethra, and colon—bodily systems responsible for excreting liquid and fecal waste—it is continuously exposed to these irritants. Therefore, lifestyle habits, including diet, hydration, and smoking, play a significant role in triggering inflammatory processes in the prostate.
In this case, the primary objective should be to reduce the severity of symptoms by completely or partially resolving inflammation. Rather than delve into the pros and cons of other methods in this post, it's worth noting that many have limited effectiveness and can cause numerous side effects, which can deter many.
Given these challenges, my primary focus was identifying herbs or natural substances with strong anti-inflammatory properties and minimal side effects and devising a method to effectively deliver these substances to the prostate.
Recipe for Prostate Inflammation Management
The following recipe proved to be highly effective for me, without any discernible side effects:
1. Shilajit; 150-200 mg
2. Eucalyptus leaves: 1 tablespoon
4. Water: 150-200 ml (5-6.7 oz)
Pour 150-200 ml of purified water into a glass mug, add one tablespoon of shredded Eucalyptus leaves, and boil for five minutes on low heat. Allow it to cool down to around 50 °C (122°F), strain to remove the debris, and then add 150-200 mg of Shilajit and stir until it dissolves.
Delivering the Anti-Inflammatory Decoction to the Prostate
Most anti-inflammatory tea recipes recommend consuming the tea twice a day for two or more weeks. However, considering the small size of the prostate gland, it's questionable how much of the active substance can reach it after being ingested and digested. Not to mention the potential harm to the digestive system from regular consumption of biologically active tea, especially for those with existing digestive problems.
Considering these factors and the prostate's proximity to the anus, I elected to deliver the anti-inflammatory decoction rectally.
Using the Rectum for Prostate Treatment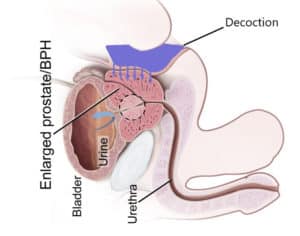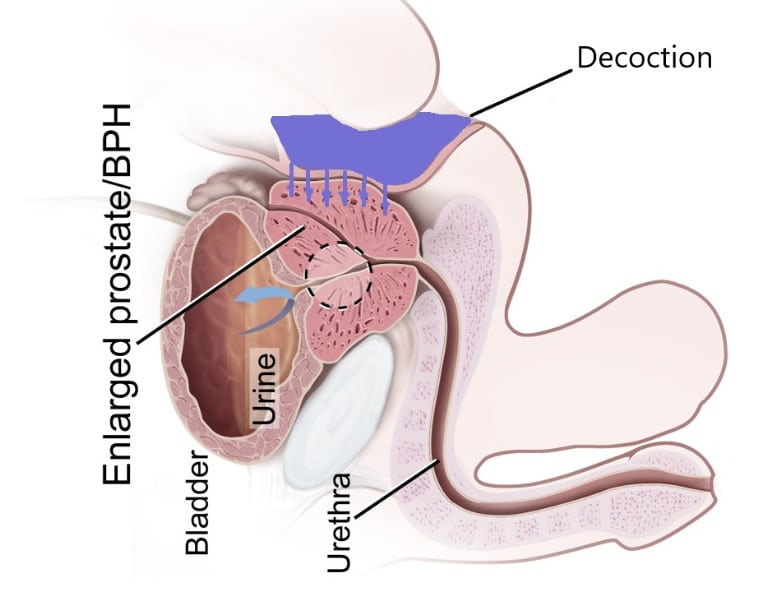 The rectum, the last few inches of the large intestine, directly adjoins the prostate. It plays a role in absorbing water and electrolytes from undigested food. Therefore, we can leverage this easily accessible location and the rectum's absorption ability to effectively manage prostate inflammation.
Instructions for Using the Anti-Inflammatory Decoction
Ensure your rectum is clean by using the toilet in the morning.
The decoction should be warm but not scalding. Test by immersing your finger in it for five seconds. Use 150-200 ml (1.5-3 oz) of the prepared decoction per application.
Lie on your stomach for one hour to allow the liquid to absorb from the rectum into the bloodstream and the surrounding organs.
Repeat this procedure twice for one or two days. If you notice positive changes in your prostate, reduce the frequency to once a day for the next 7-10 days.
Despite the absence of prostatitis symptoms, remember that they can recur due to various factors. However, now you are well-equipped to manage it. Treat your prostate with the anti-inflammatory decoction 2-3 times at any sign of recurrence.
You may notice significant improvement after the second or third enema application, but this can vary. The warm temperature of the decoction relaxes the rectum and prostate, making them more receptive to the healing effects of the active ingredients in the liquid. Other herbs, such as Stinging Nettle leaves or roots and Green Tea, can also be used instead of Eucalyptus leaves.
Potential Outcomes of this Prostate Management Approach
Total or partial reduction of prostatitis symptoms, often noticeable the day after treatment.
Overall improvement of urogenital health and wellness in the pelvic region.
Depending on your age, you might experience increased libido, stamina, and nocturnal erections as a side effect.
Enhanced self-perception and confidence in life
Conclusion
In conclusion, I want to emphasize the importance of changing our attitudes toward prostate health. We often take for granted that our organs, such as the prostate, will continue to function without problems for years, just like our heart or other internal organs. However, this casual attitude can lead to neglect, resulting in prostatitis and associated symptoms. We need to learn how to care for our prostate, whether or not we have prostatitis.
The method I outlined above, describing how I managed my prostatitis, is simple and effective for alleviating inflammation in the prostate. It utilizes natural ingredients with potent anti-inflammatory properties and takes advantage of the rectal route to effectively deliver these substances to the prostate, leveraging the healing power of the decoction and the relaxing effect of its warmth.
In future posts, I will delve deeper into why I chose these ingredients for the anti-inflammatory decoction, their specific properties, and any potential side effects.
Give it a Try!
While I have found this approach to be effective for managing my prostatitis symptoms, remember that everyone's body is unique, and what works for one person might not work for another. Always consult your healthcare provider before starting any new treatment, especially if you have pre-existing health conditions or are currently on medication.
And remember, taking care of your overall health – eating a balanced diet, maintaining a healthy weight, exercising regularly, limiting alcohol intake, and avoiding smoking – can also contribute significantly to your prostate health. Prevention is always better than cure!