Last Updated on June 3, 2023 by Max
Introduction
Prostatitis, a condition predominantly affecting men, has been a medical concern since the dawn of human civilization. In the quest to enhance health and wellness, we often overlook the wealth of knowledge found in ancient healing practices. While our modern pharmaceutical landscape offers an array of treatments, the effectiveness of some traditional approaches, especially those rooted in Chinese medicine, warrants serious consideration. Offering a holistic perspective on health, these methodologies not only focus on the symptoms of the disease but also promote overall well-being, emphasizing the harmony of body, mind, and spirit. Paida and Lajin stand out among these practices due to their simplicity, safety, and impressive efficacy in treating prostatitis and chronic pelvic pain syndrome. This article delves into these powerful self-healing methods, highlighting their basis in Chinese medicine, application, and observed results. Let's explore the potential of these techniques and how they could revolutionize how we address prostatitis and chronic pelvic pain.
Prostatitis: Ancient Healing in the Modern World
Chronic conditions such as prostatitis have existed alongside humanity since the beginning of time. Historically, civilizations like the Chinese and Indians have responded by developing comprehensive body healing systems. These time-honored systems have demonstrated remarkable effectiveness across generations. Yet, in our modern era, where pharmaceutical solutions promise immediate results, holistic healing methods, which advocate a longer-term process, often need to be noticed. Nevertheless, specific Chinese medical practices have proven remarkably successful in treating prostatitis and deserve further attention and exploration due to their incredible simplicity, safety, and broad applicability. Today, let's delve deeper into how we can combat prostatitis and chronic pelvic pain by utilizing these simple yet powerful practices.
The Central Tenet of Chinese Medicine: Energy Meridians

Traditional Chinese medicine introduces an innate self-healing system in our bodies. This system revolves around energy, or Chi, flowing through invisible channels called meridians. Every organ has its corresponding meridian, ensuring the smooth circulation of blood and organ vitality. Our bodies encompass 14 meridians and a plethora of active or acupuncture points along each. External stressors or internal imbalances can obstruct these meridians, disrupting the associated organ's blood supply and leading to disease manifestation (Zhang Y., 2020). This video may be insightful in understanding how emotions and attitudes influence the free flow of Chi.
Thus, Chinese medicine recommends unblocking relevant meridians by stimulating active points to cure any disease. Whether it is acupuncture, acupressure, cupping, yoga, herbal medicine, massage, paida (slapping), or lajin (stretching), the ultimate goal is to restore the free flow of Chi (Wang J., 2022).
Paida and Lajin: The Twin Pillars of Chinese Medicine
Pioneered by Master Hongchi Xiao, the techniques of paida and lajin have gained global recognition over the past decade. Essentially, paida slaps specific skin areas to release toxins, while lajin focuses on stretching tendons and ligaments to enhance body flexibility (Xiao H., 2015). These practices have shown remarkable efficacy in managing complex conditions, including lower back and leg pain, prostate and kidney disorders, liver problems, and more.
Remarkably, these methods require minimal expertise compared to acupuncture or acupressure. They primarily address blood circulation and heart functionality while also targeting specific meridians. Supporting these practices with dietary therapies, meditation, and a healthy lifestyle can amplify their healing potential (Xiao H., 2015).
Let's explore how these methods mitigate prostatitis and chronic pelvic pain symptoms.
Transforming Health with Paida and Lajin
A holistic approach suggests that treating prostatitis involves unblocking the Urinary Bladder Meridian, associated with pelvic health, and the Heart Meridian. The process helps free the Heart Meridian, ensuring a smooth blood flow (Xiao H., 2015). According to Master Xiao, the primary areas for paida are the hands, elbows, knees, and feet, where the meridians of crucial organs intersect.
Urinary Bladder Meridian
The Urinary Bladder Meridian addresses conditions related to men's urinary and reproductive systems: prostatitis, chronic pelvic pain syndrome, erectile dysfunction, and premature ejaculation. It extends from the head to the toe and interacts with the meridians of the Spleen, Liver, and Kidney. To detoxify and unblock the Urinary Bladder Meridian, it's recommended to paida the abdomen, the base of the thighs, and the inner sides of the legs (Zhang Y., 2020).
Master Xiao's Paida and Lajin practices, embraced by thousands of men and women globally, have shown promising results in treating prostatitis, particularly in older men. These techniques are simple yet extraordinarily efficient, with the positive effect often evident almost immediately and an efficacy rate of approximately 90%.
The Art of Paida
There is no specific time length or frequency for practicing Paida daily. The goal is to pat relevant areas until Sha, or "toxic" blood, emerges. This usually takes between 2 to 10 minutes and varies depending on the individual and the severity of the blockage. Sha often disappears in the following 2-3 days, but with continued paida, it may dissipate within 20-30 minutes. For severe prostatitis symptoms, the duration of Paida should extend to at least one hour a day, continued until the emergence of Sha ceases (Xiao H., 2015).
Achieving More with Paida and Lajin Combined
Pairing Paida with Lajin brings about better effects. Chinese medicine identifies contraction and degeneration of tendons and ligaments as the primary causes of aging and most disorders. Therefore, stretching, which forms the basis of Lajin practice, is crucial. "No pain, no gain" aptly describes this practice – the stretching should be as intense as bearable to address meridian blockages effectively.
Experiencing pain and numbness in the pelvic area, thighs, and behind the knees indicates active cleansing of energy channels, promoting Chi and blood flow (Xiao H., 2015). The reclining position is considered the most beneficial for Lajin. When executed correctly, one leg should be affixed to a board, with the other foot touching the ground.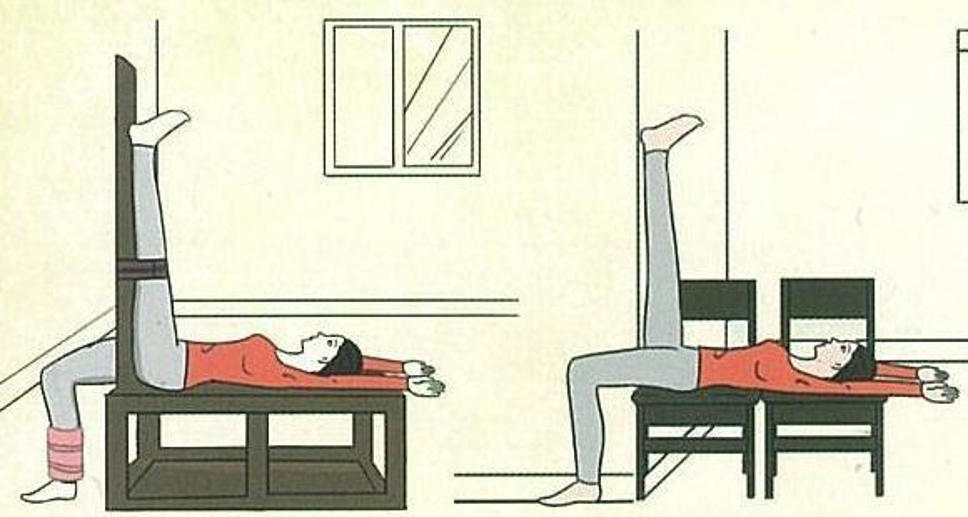 Lajin proves incredibly useful in alleviating prostatitis, chronic pelvic pain symptoms, sexual disorders, diabetes, and high blood pressure. Practice it for 10-40 minutes for each leg in a reclining position. Although the starting term may vary individually, the key is persistence: the longer the practice, the better the result.
Be aware of the simplicity of Paida and Lajin practices. To truly overcome prostatitis and chronic pelvic pain symptoms, you must fully invest yourself – mentally, physically, and socially – into the healing process. As such, workshops lasting for a week often yield better results than individual practices spanning months. The workshop schedule includes 4-5 hours of Paida and Lajin daily and includes meditative jogging, fasting, meditation, and a vegetarian diet (Xiao H., 2015).
Believing in Paida and Lajin
here are numerous testimonials from grateful patients worldwide about the efficacy of Paida and Lajin practices. An example is an interview conducted by Hongchi Xiao in 2013, where out of 285 workshop participants, 243 continued practicing Paida and Lajin post-seminar, and 226 wholly stopped medication. Of those, 134 reported excellent health, 76 experienced improved health compared to the pre-workshop, while only 16 maintained the same health level as when they were on medication. Further interviews conducted in 2015 and 2016 corroborated these findings, showing up to 100% relief from prostatitis symptoms.
Moreover, leading clinics treating prostatitis and chronic pelvic pain syndrome in the USA and Europe have integrated similar holistic approaches into their programs. For example, "The Chronic Pelvic Pain Clinic, London UK" combines mindfulness, meditation, stretching, yoga, social activities, self-massage, supplementation, lifestyle, and dietary changes in their BioPsychoSocial program.
---
Conclusion
By helping your body heal itself through practices such as Paida and Lajin, you can actively manage and alleviate prostatitis and chronic pelvic pain symptoms. These practices, derived from traditional Chinese medicine, emphasize unblocking energy meridians and enhancing the circulation of Chi and blood. Their simplicity and efficacy make them attractive treatment options that anyone can use anytime and from any place. While these self-healing techniques don't offer an overnight cure, they provide a sustainable and holistic approach to managing prostatitis.
Beyond Paida and Lajin, integrating lifestyle changes can also boost the efficacy of these practices. Following a balanced diet, managing stress through mindfulness or meditation, ensuring adequate sleep, and engaging in regular physical exercise are all ways to support your healing journey. Remember that a harmonious connection between the mind, body, and spirit forms the essence of overall wellness.
As we navigate the modern world, we can use ancient wisdom to manage chronic conditions effectively. The use of Paida and Lajin demonstrates how traditional Chinese practices have stood the test of time and can play a vital role in modern healthcare. These practices contribute to prostatitis and chronic pelvic pain management and towards a more holistic, patient-centered healthcare system that empowers individuals to take an active role in their health.
However, always consult a healthcare professional before embarking on any new health practice or changing an existing treatment plan. Your healthcare provider can provide guidance and ensure that the exercises you choose are safe and appropriate for your specific health condition and needs. With their support, you can make informed decisions about incorporating Paida, Lajin, and other holistic practices into your life. Ultimately, your journey to health and wellness is a personal one that should be tailored to your unique circumstances, needs, and goals.