Last Updated on November 30, 2023 by Max
Introduction
Welcome to our interactive guide, "Explore Prostate Cancer Risk Factors." This journey is more than just a reading experience; it's an exploration into understanding your health and the complexities of prostate cancer. Prostate cancer affects millions worldwide, but what exactly increases your risk? Is it genetics, lifestyle, or something else entirely?
In this guide, we delve deep into the various risk factors associated with prostate cancer. We'll uncover the science, debunk myths, and provide you with the latest research and statistics. Our goal is to empower you with knowledge, enabling you to make informed decisions about your health.
As you navigate through our interactive content, remember that each piece of information is a step toward better understanding and potentially reducing your risk. And don't hesitate to share your thoughts and questions along the way. Your insights are invaluable in this shared quest.
How to Use the Guide
To ensure you get the most out of this guide, here's a quick overview of how to navigate and interact with it:
Interactive Risk Factor Buttons:
On the main page (below), you'll find a series of buttons, each representing a different risk factor for prostate cancer.
These buttons are not just for show! They are interactive elements that lead to more detailed information.
To Use: Hover your cursor over a button to see a brief description. Click on any button to be taken to a page with detailed information about that specific risk factor.
You will find a comment box or a feedback form at the end of each section.
We encourage you to share your thoughts, experiences, or questions. Your input is valuable to us and can help others who are reading the guide.
Your journey to understanding and awareness starts here!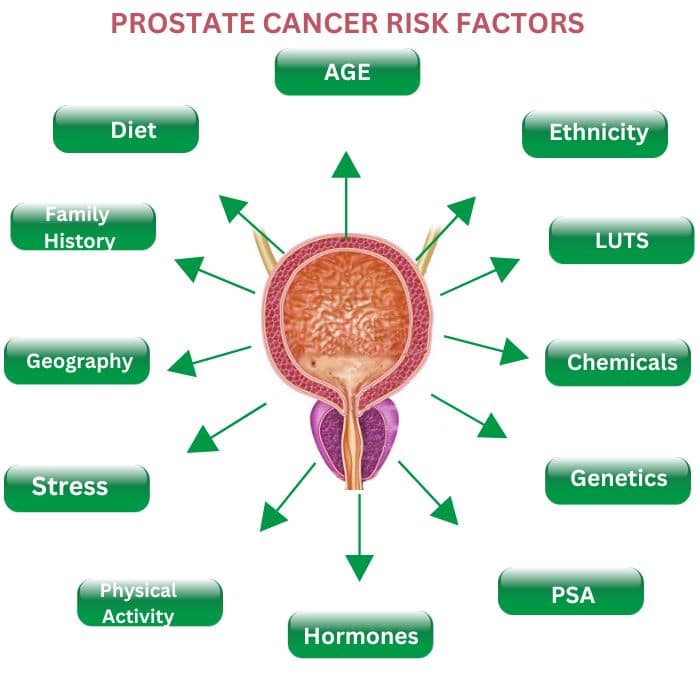 Assessing Your Prostate Cancer Risk
Now that you understand pretty well the main Risk Factors of Prostate Cancer, how much do you know about your risk for prostate cancer? Let's find out! Take our quick quiz to get personalized insights and learn more about this crucial health topic.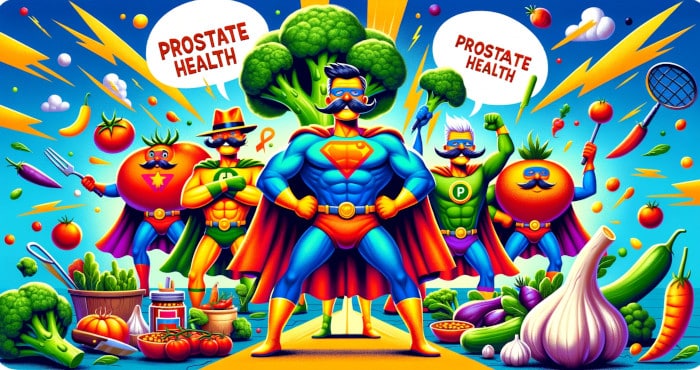 Conclusion
As we conclude our exploration of the diverse risk factors associated with prostate cancer, it is clear that this disease is influenced by a complex interplay of genetic, environmental, lifestyle, and physiological factors. From the role of family history and genetics to the impact of dietary habits, physical activity, and chemical exposures, each factor contributes its own piece to the puzzle of prostate cancer risk.
Key Takeaways:
Multifaceted Nature of Risk: A single factor does not determine prostate cancer risk. Instead, it's the cumulative effect of various elements, some of which are within our control (like diet and exercise) and others that are not (like genetics and age).
Importance of Awareness and Screening: Understanding these risk factors empowers us to make informed decisions about our health. Regular screenings, particularly for those in high-risk groups (such as men with a family history of prostate cancer or those of certain ethnicities), are crucial for early detection and effective treatment.
Lifestyle Choices Matter: Our exploration underscores the significance of lifestyle choices. A balanced diet, regular physical activity, and avoidance of harmful chemicals and substances can play a role in reducing the risk of prostate cancer.
Personalized Approach to Risk Management: Each individual's risk profile is unique and shaped by a combination of genetic predispositions, environmental exposures, and personal habits. Therefore, a one-size-fits-all approach is less effective than personalized strategies tailored to each person's specific risk factors.