Last Updated on August 8, 2022 by Max
Introduction
Eurycoma longifolia,or Tongkat Ali, often called "Malaysian ginseng," is a medicinal plant to which traditionally, "anti-aging" properties are attributed. The remedy has a long reputation as a natural adaptogen supporting men in handling the oldness symptoms such as reduced energy, mood, and libido. Modern studies have also shown Eurycoma longifolia to increase free testosterone, improve physical performance, and weight loss, reduce fatigue, and improve well-being.
In healthy men, at 60, testosterone levels are typically only 40-50% of the age of 20 and even lower because of stress and issues related to diet, exercise, and sleep.
T-boosters: can we trust the sellers' claims and product reviews?
Regular intake of Eurycoma longifolia root water extracts enhances testosterone levels in men. Quassinoid (eurycomanone) is an extract component responsible for the testosterone-enhancing effect. The properly prepared Tongkat Aliwater extracts must be standardized for the content of Quassinoids.
Evidence-based studies backing Eurycoma longifolia health benefits
In animal models,Tongkat Alihas been reported to improve sperm qualities such as sperm count and motility and increase testosterone levels.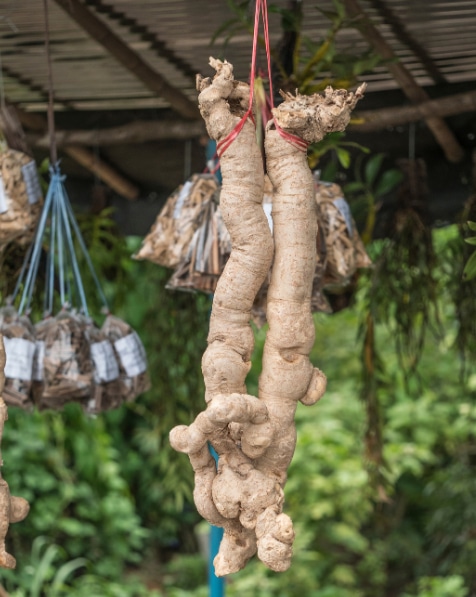 Tambi and colleagues studied the effect ofTongkat Alisupplementation (200 mg/day) for one mo on 76 patients suffering from the Late Onset of Hypogonadism (LOH). The results of the experiment suggest Tongkat Ali extract as a useful supplement to overcome the symptoms of LOH and hypogonadism management. Before treatment, 35.5% of patients had normal testosterone levels (6–30 nmol/l), and only 10.5% of the men were in the 'no complaints' category. Upon completion of treatment, 90.8% of the patients showed normal testosterone levels, and 71.7% of them were in the 'no complaints' category.
The results of another study (2013), where 32 men and 31 women were supplemented with a standardized hot-water extract ofEurycoma longifoliaroot, showed significant improvements in theEurycoma longifoliagroup compared to the placebo group. After four weeks of treatment, the concentration of the stress hormone cortisol was reduced by -16% and testosterone levels increased by 37% in the experimental group. They also found significant improvements in the EL group in lowering certain stress states such as tension (−11%), anger (−12%), and confusion (−15%).
Two studies of weight-training young men showed thatEurycoma longifoliasupplementation (100 mg/day) improved muscle mass gain, strength, and arm circumference while stimulating fat loss compared to a placebo group.
The mechanism of action of Eurycoma Longifolia
The effect ofEurycoma longifoliain restoring normal testosterone levels is thought mostly for its property to release "free" testosterone from its binding protein, sex-hormone-binding-globulin (SHBG), rather than by stimulating testosterone synthesis anew. The content of SHBG in men's blood increases with age. In this way, Eurycoma longifolia may prove particularly beneficial for those whose testosterone levels decline to sub-normal levels due to dieting for weight loss, intensive training, or common age-related changes.
Toxicity and dosage of Tongkat Ali.
Eurycoma longifoliahas been classified as Category 5 (extremely safe) according to the United Nations Globally Harmonized System of Classification and Labeling of Chemicals. LD50 of EL root extract has been determined in rat studies and is 2,000 mg/kg body weight. Moreover, in human studies where the patients consumed as high as 600 mg/day of EL extract, no adverse effects on blood profile or liver and kidney functions were found. The recommended dosage of Tongkat Ali root extract is 50-200 mg/day.
The Standard of Eurycoma longifolia root extract.
According to a patent jointly issued by the Government of Malaysia and the Massachusetts Institute of Technology (the United States Patent #7,132,117),Eurycoma longifoliaroots undergo water extraction following chromatography to purify a fraction containing glycopeptide with 36 amino acids. This glycopeptide fraction is responsible for the effects of EL in maintaining testosterone levels and related benefits.
Numerous studies have shown extreme safety of long-term use of Tongkat Ali hot-water root extracts standardized for 1% eurycomanone, 22% protein, 30% polysaccharides, and 35% glycosaponin. Quassinoids in the hot-water extract of Eurycoma longifolia make it taste bitter, so the bitterer the extract, the stronger its effects.
Upon buying ofsupplement, pay attention that most of theTongkat Alilabels on the market display "extract ratios" from 1:20 to 1:200 and no information about the concentration of bioactive components, extraction method (e.g., ethanol versus water), or extract purity.
Conclusion.
To sum up, multiple health benefits ofEurycoma longifoliahot-water root extract have been strongly backed both by long traditional use and modern evidence-based studies. Tongkat Alimay be a useful strategy for maintaining adequate steroid hormone balance (cortisol/testosterone) in men with age, protecting the body from the harmful results of constant stress, dieting for weight loss, sleep deprivation, and intense workouts.
Tambi M, Imran M, Henkel R. Standardised water‐soluble extract of Eurycoma longifolia, Tongkat Ali, as testosterone booster for managing men with late‐onset hypogonadism? Andrologia 2012;44:226-30
Shawn M Talbott, Julie A Talbott, Annie George, and Mike Pugh. Effect of Tongkat Ali on stress hormones and psychological mood state in moderately stressed subjects. J Int Soc Sports Nutr. 2013; 10: 28.
Athimulam A, Kumaresan S, Foo DCY, Sarmidi MR, Aziz RA. Modeling and optimization of E. longifolia water extract production. Food and Bioproducts Processing. 2006;84(C2):139–149.
Bhat R, Karim AA. Review Tongkat Ali (Eurycoma longifolia Jack): a review on its ethnobotany and pharmacological importance. Fitoterapia. 2010 Oct; 81(7):669-79.
Hamzah S, Yusof A. The ergogenic effects of Tongkat Ali (Eurycoma longifolia): A pilot study. British J Sports Med. 2003;37:464–470.